Our latest update ~ APRIL 2017
Gordon Potter's cinema career began in the 1940's, working at the Hippodrome Ellesmere Port, and the Kings cinema in nearby Great Sutton.
His home was in Chester, so it was inevitable that he would eventually look towards the six city centre cinemas for work. The Odeon, "a super cinema of the most modern type" beckoned, and he was taken on there during 1947.
He quickly established himself as a projectionist with high standards of quality workmanship and excellent presentational skills. His quiet, courteous manner was always appreciated by the local cinema employees, whether working with him at the Odeon, or at the other cinemas where we were all aware of Gordon's standards. Behind the scenes his enthusiasm and talent kept thousands of Chester's cinema goers entertained and he certainly contributed towards establishing the Odeon as one of the North West's premier theatres and the city's favourite big screen venue. He met and married his wife Kath, who was also employed at the cinema. On occasions he worked on stage shows presented at the Gaumont in Brook Street, which was one of four Chester cinemas controlled by the Rank Organisation. He had strong links with the original Odeon Wrexham where he also worked on relief. He was a keen advocate of Cinemation as it was introduced in the mid 1960s. He took over as chief projectionist in 1968, and left the cinema business in 1977 having completed more than thirty years in the industry. Gordon was appropriately invited to the final performance on the evening that the Odeon closed its doors for the final time in Chester.  Sadly he passed away in early 2008 within months of the attending that event. His contribution to film entertainment in Chester during the most popular years of cinema was invaluable.
In the cinema industry, we were indeed fortunate to have been associates of Gordon.
Peter Davies © chestercinema.co.uk
Gilbert Taylor was born in Bushey Heath, Hertfordshire on April 12 1914, and died on the 23rd August 2013. He was the son of a successful builder and it was taken for granted he would join the family business. Gilbert studied architecture but wasn't really interested in it. His heart was in films. He joined the film industry in 1929. Later, he operated on a number of memorable films including: Brighton Rock (1947). He went on to become a director of photography and photographed the first Star Wars film with George Lucas. He also shot the first Beatles outing, 'A Hard Days Night' (1964).
How did you get interested in films?
I had an uncle who was a newsreel cameraman, and when I was around twelve I would clean the brass on his Williamson camera. In 1929 I was training to be an architect. Instead of becoming an architect I got a job driving for cinematographer Bill Shenton. He was fond of his drink, so needed someone to drive him around. We went to Paris where I worked on two silent movies. When I came back I went to Gainsborough and then British International Pictures. I worked with Alfred Hitchcock as second assistant cameraman on his film 'Number 17' (1932).
What was it like working with Stanley Kubrick on Dr Strangelove?
Kubrick was very talented and I learned a lot through him because he kept me at it. I had to keep a book of tables in my pocket because he kept asking questions. He would have some expert down in his office, talk to him, and then ask me how I would do it. He was that sort of person. I didn't mind his interference. He wanted me to do his next movie but I couldn't do it.
What was it like working with Tony Hancock?
I loved Tony, he was always socially friendly. He had bad moments when he was trying to play Hamlet. The trouble with those films was that they were made on the cheap. They were always trying to do things for nothing.
Which film took the longest?
I don't know, but it may have been 'Dr Strangelove'(1964). Nothing took more than twelve weeks. On 'Dr Strangelove' we had Peter Sellers playing the pilot, but it wasn't working out. I had a picture of Slim Pickens, which I placed on Stanley Kubrick's desk. Within twenty-four hours he was working on the film.
What was it like working with The Beatles on "A HARD DAYS NIGHT"?
It was great fun. I had worked with the director Dick Lester before on 'It's Trad Dad'(1962), and got on well with him. We had a script for 'A Hard Days Night', but a lot of it was invented on a daily basis. Walter Shenson, the producer was a marvellous bloke, so it was a very happy experience. The Beatles couldn't remember their dialogue, so we had to put microphones under their seats when they were talking. It took around six weeks to shoot. There was marvellous melody, marvellous crowds, and everyone went absolutely mad, you couldn't hear anything. Lester asked me to work on Help, but  I was shooting 'The Bedford Incident'(1965), so David Watkin did it. I didn't want to do it anyway. Fortunately, when I was working, I had two or three movies to choose from. I turned a Bond film down for a Polanski film. The budget was so small on 'A Hard Days Night'. They were moaning about it the whole time. Anything that you wanted extra you couldn't have because it wasn't in the budget. It was a very close, tight unit compared to most films. I had about eight electricians, where normally I would have about two dozen. Denis O'Dell, our production manager, cut everything down. After the premiere I was in Scotland and I got a cheque from the producer for a thousand pounds, to say 'You were great.' That was the first I'd had off anyone since making movies. We started shooting around half past seven in the morning and we carried on until we finished what we were doing.
Was Star Wars shot on 35mm or 65mm?
The film was shot on 35mm and blown up to 70mm for some theatres. I didn't have much contact with the director, George Lucas, so I was left to make my own decisions on how it was to be photographed. I did some experimenting before going on location in Tunisia. 'Star Wars' was a challenge and I am still in touch with fans all over the world.
Finally did you have a favourite director?
Not really, I loved working with Roman Polanski and Alfred Hitchcock. Hitchcock was a gentleman; he treated you like someone special. He looked after you and paid you well. When I first worked with him he called me Gillpots. He was a great man to work for.
David A Ellis © chestercinemas.co.uk
A lady well known to many cinema goers at Chester largest cinema/theatre, the ABC REGAL,  was Lil Rogers.
She started her career in cinema at the ABC Regal during the fifties as a cashier. During the mid-sixties, and in particular as the ABC began to host the famous stage shows, Lil started to train in office duties under the watchful eye of Horace "Chuck" Walker. Lil took her new duties in her stride while taking on a responsible role dealing with the many thousands of booking transactions that were then processed manually, as well as maintaining her familiar cashier role.
It was a particularly busy time, when the main entrance was divided to provide a Concourse coffee lounge, which was famed as being the first venue to use microwave cooking. Many changes were to take place in the building which Lil enjoyed being involved with, embracing the change, demonstrating experience and her ability to manage. She was made a trainee manager towards the latter part of the 1960s, eventually becoming a duty manager within a few years. After the cinema was divided into a poorly thought out cine bingo operation Lil was in charge as General Manager. Certainly making the best of what she had available. She remained at the ABC until a few years before it closed.
Lil Rogers was a well respected, and liked manager to her colleagues and customers, many who fondly remember her generosity with those free tickets!
Peter Davies © chestercinemas.co.uk
PAMELA MANN was born in London and went to school in Wembley Park, leaving at sixteen. We talked about her days as a script supervisor (continuity girl). Script supervisor was the American term and later used in the UK. Angela Alan was instrumental in the term being adopted in the UK. Francis, born in 1927 said the job attracted mainly women, possibly because of the enormous amount of typing that is required. Before becoming involved in the film industry she worked in advertising and music publishing. Her debut in the film business was for the Rank Organisation at Imperial House in Regent Street, London. She then moved to the publicity department for Wessex Films based at Pinewood Studios. It was the early days of actor Dirk Bogarde, who was under contract to Wessex Films. Her first film on publicity was Derby Day (1952) directed by Herbert Wilcox.
She eventually became secretary to producer and director David Lean.  Asked how this came about she said: "I was associate producer Norman Leslie Spencer's secretary working on scripts at the Alexander Korda organisation at 146 Piccadilly, now gone. I didn't work for David until he left Pinewood to join Korda. The first picture I worked with him on was The Sound Barrier, (1952), shot at Shepperton studios. Francis said David Lean had a saying, 'Never come out of the same hole twice', meaning the next film should be different.
Her first outing in continuity was on Summertime (1955) directed by David Lean, taking over from Maggie Unsworth, credited Margaret Shipway, who had taken ill. On that film Francis was the producer's secretary, production secretary and continuity person, all for the one salary and no credit. At that time she wasn't a member of the ACT but because it was a foreign based film she was allowed to do the work.
She finally got into the ACT and worked on Lean's Bridge on the River Kwai (1957) as a production secretary, which required ACT membership. Francis says it was a real train and bridge that was blown up on the film, photographed with five cameras. She said that Lean wanted Charles Laughton for the part of colonel Nicholson, played in the film by Alec Guinness. Laughton didn't accept saying he wouldn't be able to lose weight.
Angela Allen, a good friend, spoke up for Francis at the ACT saying "Pam has been in the business for many years and hasn't done the business any harm, so let her come into the ACT."Francis moved on to continuity and worked on the TV series Dial 999 a co-production between Britain's ABC and the US company Ziv starring Robert Beatty and made at Elstree studios. Early features were In the Nick (1960, directed by Ken Hughes and Let's Get Married (1960) directed by Peter Graham Scott.
She said: "I always wanted to do continuity work but it took me a long time because at that time they had unions and when I first started in the publicity department I was in NATKE (National Association of Theatrical and Kine Employees). It took me a long time to transfer to ACT (Association of Cinematograph Technicians), which was required for continuity."
Asked if she had help in the job, she replied: "No, I didn't have an assistant, I worked on my own. As far as the second unit is concerned I didn't usually decide who would do the continuity; that was mainly left to the office." She said "a saying in the industry regarding continuity errors used to be, They will never notice in the one and nines", (one shilling and ninepence, or nine new pence).
Did she have a favourite director? "Among my favourites is Steven Spielberg, David Lean and Karel Reisz."
The continuity person in the UK is expected to keep an eye on everything. They have to time every scene with a stopwatch, make a note of everything, including which lenses the cinematographer is using. Usually the continuity person works alone on the unit, it is a very responsible job. In the States each department takes responsibility for the continuity.
Which was her most challenging film she replied: "probably Summertime", with Kate Hepburn, because I was put in at the deep end. Rushes didn't come back for weeks in those days. In one instance Kate was wearing earrings when she left Venice and later when she arrived in Burano wasn't. I told her she had to wear them to match continuity, which she did. I just had my doubts later.  I remember being told the rushes had arrived so I rushed into the cutting room where they were being looked at on a Movieola and screaming 'She's not wearing them.' The editor, Peter Taylor said, 'What are you talking about, of course she's wearing them.' I was so convinced at that time she wasn't."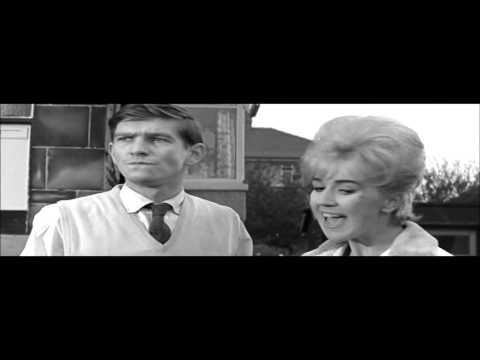 click the picture above to play "the surprise visitor in BILLY LIAR"
After working on Billy Liar (1963) directed by John Schlesinger, Pam took a break from the job, later returning to work on a few commercials, before going back into features, her first was The Empire Strikes Back (1980) directed by Irvin Kershner.
Pam said she didn't have any particular favourites but among the ones she has enjoyed working on is Little Shop of Horrors (1986) directed by Frank Oz. Asked if she often worked with the same crew she said: "Not usually but I did work more than once with Douglas Slocombe, Chic Waterson and Robin Vidgeon."
Other features include, Saturday Night and Sunday Morning (1960) directed by Karel Reisz,  The Innocents (1961) directed by Jack Clayton, and Raiders of the Lost Ark (1981) directed by Steven Spielberg. TV work includes The Professionals and Dick Turpin.
Before hanging up her stopwatch, her last film was "Who Framed Roger Rabbit" (1988), directed by Robert Zemeckis.
Francis is now enjoying retirement and still keeps in touch with people from the business.
Other continuity girls include Penny Daniels, Where Eagles Dare (1971), Pamela Davies, The Servant (1963), Joan Davies, Doctor in the House (1956), Annabel Davis Goff, The Prime of Miss Jean Brodie (1969) and Rita Davison, A Taste of Honey (1961).
David A Ellis © chestercinemas.co.uk
Of all the film studio logos researched with an accurate background, Columbia pictures is one of the tricky ones, mainly because so many seem to think the lady with the torch resembles their favourite star or celebrity.
Columbia Pictures.  Founded in 1919 and named Cohn-Brandt-Cohn Film Sales, which got changed to Columbia Pictures in 1924. The name is acknowledged to be the female personification of America and was chosen to be the name and logo of the company. It is not completely clear however on which woman Columbia has been based. Several women have claimed to be the inspiration, but a conclusive answer was never found. Before the Torch lady appeared in 1928 the studio used the image of a female Roman Soldier holding a stick and a shield.
The first Torch Lady had a headdress and had rays on the torch that flickered. Then in 1936, the  most favoured version began its long run. This updated version removed the headdress, showed a full length shot of the lady, and placed her on a pedestal, giving far more in depth sparkle to her torch. A colour version was introduced, which followed the style of the 1936 title.
Columbia Pictures's Lady Statue with her torch was Jane Chester~
With the money she earned washing dishes and scrubbing floors, Jane Chester, a 16-year-old brunette beauty, bought a one-way ticket from Washington  to Hollywood.   For more than a year she lived in a rooming house near the Columbia Pictures studio and made the rounds, trying to break into the movies. Discouraged, Jane was about to leave Hollywood when she, along with other girls, was asked to pose as the Statue of Liberty for what was to be Columbia's screen "trademark." "No one really knew if the picture would be used. We weren't paid, but we hoped it could lead to something," said Jane. When it didn't, Jane moved to Chicago and later married. Two years later she was in a movie theater and suddenly her picture flashed on the screen. Over the years, only her family knew she WAS Columbia's Lady with the torch. To satisfy her grandsons, who did not believe Jane had been in the movies, her oldest daughter asked the Chicago Daily News to check it out. Photographs taken at the time convinced the paper that 56-year-old Mrs. Jane Bartholomew, now a nursing inspector for the Illinois Department of Public Health, was indeed the lady with the torch. So far her shapely form has appeared in more than 1,700 films. Although other women have been named as the final model, Bartholomew is certain the icon was based on her likeness. Columbia icon photos sent to her by the studio in 1975 adorn a wall in the room of the nursing home where she lived. A stroke has robbed her of the ability to speak.
Several alterations were made over the years, The logo's most recent and major overhaul was undertaken in 1993 when Sony Pictures Entertainment, the new owners of the company since 1989, commissioned illustrator Michael J. Deas to redesign the lady and return her to her "classic" look.  He engaged the unknown model, Jenny Joseph for her one and only assignment. Slimmer than the  Columbia Lady,  with lighter, curlier hair and a less powerful torch.  Rather than use Joseph's face however, Deas decided on a composite face made up of several computer-generated features. Deas returned the giant chiselled letters to the logo, but the design was also updated for the 1990s.  In the animated logo that appears before Columbia films on the big screen, the torch sparkles, the background clouds move across the sky, and a ring of light shimmers around the lady. The artist recalled that Colombia's art director wanted to fashion the current logo after the earlier colour version, which depicted Lady Columbia draped in an American flag.  He was asked to follow the original image's colour scheme closely.  Draping The Lady in the Stars & Stripes flag was dropped, and replaced with a plain blue cloth over a white dress.
The image stands out well in today's HD demanding specifications, although there are many detrimental comments which accuse the image of the lady with the torch as looking plastic and unrealistic.  The powers at Sony-Columbia must disagree with that sort of negative remark as they have kept it virtual unchanged since 1992.
chestercinemas.co.uk  researched ©
David never misses a chance to chat with the stars when they appear locally. This month he shares a sound interview with SIR KEN DODD, when Ken appeared in Ellesmere Port….. where his career began.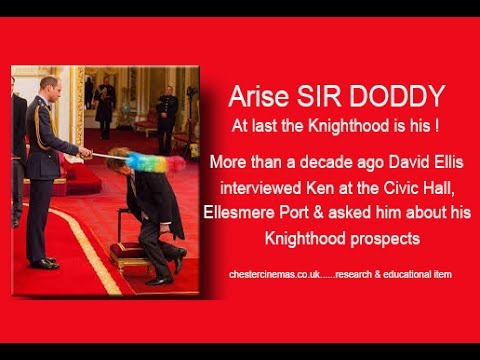 Click on the above picture to play the interview
In next month's update……the first birthday of this website, the features will include ~ 
Behind the updates  ~  Storyhouse prepares to open  ~  a rare 1962 film of the projection room in operation at the ABC  ~   DEE 103.6 broadcast on Chester's cinemas  ~  RKO Studios logo and story  ~  more chat up lines with the famous from David