Our latest update ~ JANUARY 2017
FROM LIONS TO GONGS~the first in a series, discovering the history of the famous film trade marks
The MGM trade mark has remarkably stayed in the same format since it was first used in the release of the 1917 silent film, Polly Of The Circus. The original logo was designed by Howard Dietz and used by the Goldwyn Pictures Corporation studio from 1917 to 1924. On screen the company was just Goldwyn Pictures, named after Samuel Goldwyn. This trade mark was the basis of the one we see today, with the lion circled by film that flips into ribbons, with the Latin motto ARS GRATIA ARTIS, which translated becomes Art for Art's Sake, to designate art that is independent of political and social requirements. The "Greek theatre" mask which is placed below the lion appears sinister because well, it is. It represents Satan with his "black heart" for a mouth.
A nervous Greta Garbo with Jackie
Slats
was the first lion used for the newly-formed studio. Born at the Dublin Zoo and originally named Cairbre, Slats was used on all black-and-white MGM films between 1924 and 1928. Goldwyn Pictures was ultimately absorbed into the partnership that formed MGM, and the first MGM film that used the logo was He Who Gets Slapped (1924). Unlike his successors, Slats did nothing but look around in the logo (as did the Goldwyn Pictures lion). Slats died in 1936; his skin is currently on display at the McPherson Museum in McPherson, Kansas.
Jackie was the second lion used for the MGM logo. He was also the first MGM lion to roar. This was done for MGM's first sound production, White Shadows in the South Seas (1928). Jackie appeared on all black-and-white MGM films from 1928–1956, as well as the sepia-tinted opening credits of The Wizard of Oz (1939). Jackie appeared in over a hundred films, including the Tarzan movies that starred Johnny Weissmuller.
Jackie also appeared with an apprehensive Greta Garbo in a well-known 1920s publicity still.Jackie died on February 26, 1952.
Telly & Coffee were two lions used as early experiments with colour, followed by what many prefer as their favorite lion Tanner. MGM began producing full three-strip Technicolor films in 1934. Tanner was used on all Technicolor MGM films (1934–1956) and cartoons (late 1935–1958, 1963–1967). The Wizard of Oz (1939) had the Oz scenes in color, but it had the opening and closing credits (and the Kansas scenes) in sepia-toned black-and-white, so it used Jackie instead of Tanner.
Tanner, whose first appearance was before the short subject Star Night at the Coconut Grove (1934) (his first feature film appearance was before Sweethearts four years later, in 1938), was MGM's third longest-lived lion to be used (for a total of 22 years), after Jackie (who was used for a total of 28 years) and the current lion Leo (who has been retained for over 56 years). It is this version of the logo that was the most frequently used version throughout the Golden Age of Hollywood, although colour did not really become the norm until the 1960s, and even then, many movies were still being made in black-and-white.
Tanner and Jackie were kept in the change from Academy ratio films to widescreen CinemaScope movies in 1953, with Tanner for color movies and Jackie for black-and-white films. The logo was modified for this change; the marquee below the ribbon design was removed, and the company name was placed in a semi-circle above the ribbons.
George The sixth lion, officially named George, was introduced in 1956, and appeared more heavily maned than any of the predecessors and the current lion. His run was a short two years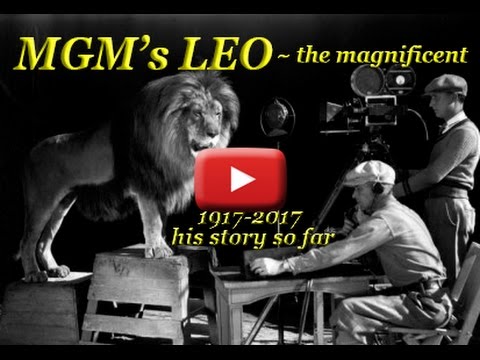 LEO the seventh lion, and MGM's most famous lion, having appeared on most MGM films since 1957. He has a smaller mane than any of the other lions (which is because he was at a very young age compared to his predecessors when his roaring was filmed). Of all the lions, he was the only one that was named Leo, although the others were nicknamed Leo.
In addition to being used as the MGM lion, Leo also appeared in Tarzan movies, in addition to other productions such as the religious epic King of Kings (1961), Zebra in the Kitchen (1965), Fluffy (1965) and Napoleon and Samantha (1972).
chestercinemas.co.uk.
Next in the series ~ Universal, the name taken from a delivery van!            Featured in February's update
___________________________________________________________________________________________________________________________________________________
Christopher Challis was born in Kensington, London on the 18th March 1919. His father was a motorcar designer and Challis was privately educated at Kings College in London.
His first taste of the movie business was working for Gaumont British in their newsreel department. He was a founding member of the British Society of Cinematographers (BSC). He was their president from 1962-1964. He was also a member of the Royal Photographic Society (RPS). His films include: Sink the Bismarck (1960), A Shot in the Dark (1964), Those Magnificent Men in their Flying Machines (1965), Arabesque (1966) and Chitty Chitty Bang Bang (1968). His daughter Sarah Challis is a novelist.
How did you get into the film business?
My father knew a man by the name of Castleton-Knight. He was the managing director of Gaumont British News. I wanted to get into the film business in any shape or form. I had shot 16mm film with a Bell and Howell camera I had been given by a friend of my father. No doubt my father had given Castleton-Knight a glowing report on what I called wretched films, which I had made at school. Knight said send Christopher along and I will look at the films. I went to see him at Film House in Wardour Street, London, where their newsreel was based. I took a projector and showed them to him. He was noncommittal but I got a job. I spent my first year running errands. I would occasionally touch a camera and follow focus when they needed an extra person.
How long did you work for Gaumont British News?
About eighteen months. I heard that Technicolor, which was in its infancy was coming to England to make a film called Wings of the Morning (1937). Up until then they had only made about half a dozen films in America. The film was to be made at Denham Studios and on location in Ireland. I took my courage in my hands and went down to Denham and asked for a job. I got a job as a loader and my visions of being on the studio floor mixing with the stars didn't happen. I worked in the darkroom loading three black and white negatives, which ran side by side in the Technicolor camera. The magazines were enormous, great heavy things, because to produce a thousand feet you had three thousand.
Technicolor came over lock, stock and barrel and brought the cameras with them. If you made a Technicolor film, you had to use their cameras, because they were designed and built by them and they had to process the film. After shooting the cameras went back to Technicolor where they were serviced and returned the next day. At that time they liked their own camera people, if possible because they were trained to light a certain way.
Technicolor colours seemed to be vivid, why was this?
They need not have been. Everything had been made in Hollywood, and they were used to bright sunlight and bright colours. It could be very muted. In fact, you had enormous control, which you didn't have with Eastmancolor. In the early days, Eastman wasn't very successful because it was a negative/positive process.
How long did you work for Technicolor?
It was right up until the outbreak of war. I then went into the RAF as a cameraman. After the war I went back into the studios and worked on A Matter of Life and Death (1946) for Michael Powell.
What was your first film as a director of photography?
My first film as a director of photography was End of the River (1947). After I had finished it they were preparing for the film Red Shoes (1948), which had Jack Cardiff as the director of photography. I love ballet and wanted to work on the film. I worked on it as a camera operator.
What was it like working with Vistavision?
I hated it. I first worked with it on The Battle of the River Plate (1956). It was originally going to be shot in Cinemascope but Rank had a quarrel with them. Vistavision required a special camera because the film ran horizontally. The cameras were awful and badly designed. It was called the Lazy 8 camera because it had eight perforations to the frame. I was glad to see the back of Vistavision; I thought it was poorly produced and the camera was difficult to handle. I shot one more film in the process, which was Ill Met by Moonlight (1957). This was a black and white film and it was hard working in some of the locations, which involved mountain work. This was because of the camera, which was difficult and heavy.
So you were glad to get back to the Mitchell and Panavision cameras?
I was glad to get back to the Panavision camera, which was wonderful, because it had all the good points of the Mitchell plus the direct look through. It was designed in consultation with cameramen. I thought the Panavision equipment was excellent. Mechanically the Mitchell was excellent, but they didn't seem to liase very much with the people that had to use them.
What was it like working with Michael Powell and Billy Wilder?
I loved working with Michel Powell. He was a hard taskmaster and could be unkind. He was out to judge people, I think pretty quickly. Once he had made his decision he never altered it. If he didn't like you for one reason or another it was best to leave. On the other hand with the people he liked and respected, he was wonderful and was very loyal. He was one of those people that liked to be challenged. He liked people to stand up to him, and most people ran away. He had a desk on the set with a secretary. Having lined up a shot he left you to get on with it. He came back with a list of things he wanted to do. This was circulated so suggestions could be made.
Billy Wilder was very tough with actors. He didn't allow any individual interpretation. What was in the script is what they had to say and was a wonderful director. He shot long takes, and didn't cover. He didn't shoot anything he didn't use. Another one like Wilder was Carol Reed. He was like a watchmaker, he knew exactly what he was going to use and how he was going to use it in the final cut. So you shot very little extra.
Would you tell me a bit about working on 65mm?
It wasn't much different from working on 35mm except you needed more light because you had the same problem with depth of focus you had with Vistavision. You needed to stop down more in order to get the same depth of focus. I worked on 65mm Mitchell cameras and was a director of photography on two 65mm productions. The first was Those Magnificent Men in Their Flying Machines (1965), followed by Chitty Chitty Bang Bang (1968). It was fun on both films. Magnificent Men was difficult because of the process work. We didn't have the sophisticated things they have today. We used a lot of travelling matte, which entailed a lot of problems, including depth of focus. The special effects were never easy in those days because we didn't have computers. You had to do it for real, so you always had problems with wires showing. Wires had to be painted to hide them.
You worked with Richard Burton on Villain (1971). What was he like on that?
I always got on with him. If he wasn't ready to shoot, through drink, there was nothing I could do about it. Sometimes he couldn't remember his lines. It was a tragedy really because he was a wonderful actor. It didn't show on the screen because we had to shoot round it or not use him when he was in that sort of state.
Finally, have you a favourite star you worked with?
My favourite was Sophia Loren. She was absolutely great. She knew how to look her best and she knew where the lights needed to be to make her look her best. She was great fun.
Christopher Challis passed away on 31st May 2012, aged 93.
David A Ellis © chestercinemas.co.uk
__________________________________________________________________________________________________________________________________________________________
David A Ellis researched this interesting piece regarding the preparations before the ABC Regal opened on 30th October 1937. A visiting journalist had documented the following ~
When I visited the cinema on Wednesday evening I had to pick my way beneath scaffolding. Workmen were laying the ornamental flooring in the vestibule. The balcony entrance was stacked with filing cabinets, chairs, desks wardrobes and other furnishings so necessary for the comfort of the staff.
On Thursday morning there had been a complete transformation. The carpets throughout the building are thick pile axministers with a design of Palm leaves in red and green – which against the colouring of the walls, gives a pleasing effect. The vestibule, in which there are two pay boxes is a rectangular hall in turquoise blue and cream and the lighting here is provided by seven fittings combining floodlighting and pendant lighting. Each fitting has six chromium flood-lights, which reflect on the gaily decorated fibrous plaques. The floral decorations will be in charge of Messrs Millward.
A wide staircase takes on to the balcony, which commands a magnificent view of the auditorium. The walls are shaded in peach colour stippled with gold. On each side of the stage are large grilles behind which are the pipes for the organ. Besides these there are other grilles, which provide the ventilation for this part of the cinema. The lighting of the auditorium is provided by eight troughs of one colour, and the proscenium grilles are of three colours interchangeable from red to green and blue. Here the lighting, which is controlled at will by the organist can be worked into nine different shades. On the stage the lighting is by floats and battens, again worked in three colours.
Altogether there are over two thousand bulbs. The auditorium lighting is controlled by a dead front dimmer panel from the projection room, and the curtains on the stage can be controlled from three different stations in the projection room and from two down on the stage. The seating is of the tub type with pneumatic arms and shaped backs on a darker peach colour. The Compton organ has three Manuels, and nearly two hundred stops, controlling all the different effects. The acoustics are stated to be excellent. Tests conducted during the week were very satisfactory.
Researched by David A Ellis  / chestercinemas.co.uk