Odeon East Ham~ remembered by James Jee
James Jee recalls the joy of working as a projectionist at the Odeon East Ham
I remember just before Christmas 1955, just as I was leaving school at the age of 15 along with a lot of other boys; we all went to see the youth employment officer of East Ham to see what occupations we could find. After looking at the many job listings available, including trainee electrician, carpenter, gravedigger (that's right!), he showed me jobs for projectionists. One was at East Ham Odeon and another was at the East Ham Gaumont Cinema. As I lived between these two cinemas, The Odeon being nearer to me, that was the obvious choice.
So there I was, in my best suit, having an interview with the Manager, Mr Woodman about my prospects. He seemed to like me and he said "Well, the pay is 2 pound,17 shillings and 6 pence a week. However, how does 3 pound a week sound?" I was amazed by the amount and not only that, I would get to see all the new films for free. Wow, I'm in show business!
The following January, I started my first day in my fresh new suit, only to find myself equipped with a bucket of water, a scrubbing brush and a bar of soap, on my knees cleaning the woodblock floor of the projection room. After it had dried, I then got a huge tub of red polish and rubbed it all over. (It really smelt lovely). I remember the first film that was shown after scrubbing the floor was called 'An Alligator Named Daisy' with Diana Dors.
The two main projectors we used were the BTH SUPA projectors which I thought looked incredible. It was my first time seeing a projector in person and I was overwhelmed by the scale of it. My position was third or fourth projectionist, usually referred to as 'the boy'. I was replacing another lad who was 18 and had been called up for national service. My Chief Operator was a man called Charlie Rice, such a lovely man who truly made me feel at home while he was training me.
Every so often we used to get an engineer called Mr Fielding, who would come to maintain the projectors (drain the oil etc). He used to tell us stories about being on standby at the Royal Command Film Performance at Odeon Leicester Square, they had three BTH SUPA projectors and two Horizontal Vista Vision projectors that only showed one film, which was The 'Battle of The River Plate'. I know this to be true as I had actually visited the projection room there and sat in the Royal seats in the circle, they were leopard printed but that's a story for another day.
I remember until I reached the age of 16, by law I could not work after 9pm. Chief would look look at the clock at in the evening and when it was finally time, he'd say "Off you go, Jim!". Also, we never showed any X certificated films at this time. However, one did pop up, it was called 'Man With The Golden Arm' starring Frank Sinatra. As I wasn't 16 years old, the Manager drafted a letter to my Mum and Dad requesting them to sign so that I could work while the film was being shown.
We used to show Universal news reels which I believe were changed twice a week, however, whenever there was a big event such as a disaster, the Manager used to give me some money to get on a train at Upton park to go to Wardour Street in Soho. When I arrived, after going down an alleyway and opening a backdoor, I entered a room with half a dozen other boys of my age. We all sat there and waited patiently to be addressed. After some minutes, a trap door would open and a man would bark out the names of the various Odeon branches in the area, ours included. We would receive spools of film, wrapped up in newspaper (just like the old fish and chips used to be), at which point, I'd return to the cinema as fast as I could. I can still remember the film being warm to the touch as it had just been processed.  Chief would then insert the new piece of film into the existing news reel on his bench. I can recall one particular occasion where Mike Hawthorn, the champion racing driver, had passed away in a driving accident.
My Manager had asked me if I'd like to go on a training course to see if I would like to go on a training course to find out what cinema was all about. The following week I journeyed to a cinema which I can't remember the name of; I remember that it was on the outskirts of London. This particular cinema had a special 'trainee' cinema within it. A very nice gentleman was instructing 6 to 8 other boys like myself to all aspects of the cinema. Within this room, they had a large partition with portholes which when you went into had 3 old 35mm projectors and some old damaged film stock, he let us load the projectors with the film to see how proficient we were. He took us out to look at various Odeon branches to get a broader understanding of the franchise.
We went to Swiss Cottage Odeon which had rear projection which I thought was marvelous, I remember an incredible underwater film called 'The Silent World', by Jacques Cousteau. One other I can remember was a visit to Odeon Leicester Square.
When I reached 18, I had worked my way up and had earned the title of second projectionist. I had the privilege of no longer being referred to as 'the boy' by this time. I remember one afternoon, pressing the buttons to lower the masking for a cinema scope film, a cable snapped and it fell down, of course my jaw dropped! Mr Woodman, the manager, made an announcement on the stage, all the audience were refunded their ticket which was the only time in 4 years that I'd ever see that happen. That night, Chief and myself stayed all night repairing the broken cable so that we could resume the program the following day.
Of course, there were many usherettes working there, one of whom was called Doreen who caught my eye. We clicked right away. In fact, we must've gotten on very well because we ended up marrying on the 26th December 1959. The Manager Mr Woodman, would be very strict in saying that anyone who didn't turn up for work on boxing day would be sacked, of course, we had the perfect alibi and 61 years have gone by and we are still happily married. I will always remember the film we showed that week, it was 'The Five Pennies' with Danny Kaye.
I loved many of the great films we showed during the period of time I worked there. For instance, 'Psycho' which was the only film we showed where the audience had to see the film from the very start. This meant that we had to clear the audience after each showing, orders from Alfred Hitchcock himself! Many others by the great Director were shown during my time such as 'North by North West', 'Vertigo' and 'The Man Who knew Too Much'. We also showed 'Some like it Hot' starring Marilyn Monroe, Tony Curtis, Jack Lemmon.
We showed 'The Bridge on the River Kwai' which we showed for 2 weeks, which was unheard of at that time. The queue snaked around the Boleyn Public House and as far back as the West Ham Football grounds (the back of the Odeon was opposite). The Manager used to say 'don't start the film until I buzz up", which meant that sometimes we'd start the film 10 minutes late. Reason being, he was still jamming people into the 2200 seater  cinema!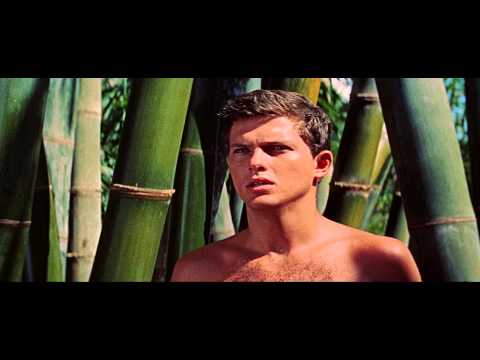 Click on the frame above to play the trailer of 'The Bridge on the River Kwai'
The auditorium would often be so overcrowded that some people would not even get a seat and would stand at the back or to the side of the cinema, incredible, definitely couldn't see that happening now.
Every Saturday night we used to spool off the films, pack them back in their boxes and carry them back stage through the auditorium for transportation. I remember carrying eight round tins of film. As I walked into the back of the auditorium downstairs, one fell off, with a crash on the floor it made everyone jump. As I looked up, I met the gaze of Mr Woodman's well renowned death stare as he put it back on top of the stack, fortunately the film wasn't damaged and was still inside it's tin. The film we were showing at the time was 'Cockleshell Heroes'.
To draw this saga to an end, I suppose if I had to choose the favorite films that I'd shown throughout my time at the cinema, it would be 'The Big Country' with Gregory Peck and 'North By Northwest' with Cary Grant.
James Jee©chestercinemas.co.uk
_________________________________________________________________________________________________________________________________________________________