Our latest update ~ NOVEMBER 2018
Emil Kosa Jr. was born in Paris, France on November 28, 1903. His father was a Czech artist. He moved to the United States with his family at the age of four. Kosa studied at the Prague Academy as a teenager and then at the California Art Institute in Los Angeles in 1927.
Click  on the above frame of  Twentieth Century Pictures to run the 1933 logo
The original Art Deco iteration of the 20th Century-Fox logo, designed by special effects animator and matte painting artist Emil Kosa Jr in 1933. It was was originally commissioned as the design for the 20th Century Pictures logo, Emil substituted "Fox" for "Pictures, Inc." in the monolith's lower course after Fox merged with 20th Century Pictures in 1935.  A prominent California watercolorist, Emil painted the monumental art deco Fox monolith, he later worked as a matte artist for the studio — he created the ruined Statue of Liberty shown at the conclusion of Planet of the Apes. He received an Oscar for the special effects in Cleopatra.
DESIGN ELEMENTS, HISTORY AND EVOLUTION OF THE 20th CENTURY FOX LOGO
Shape and Colours of 20th Century Fox Logo
The 20th Century Fox logo is a remarkable example of a historical entertainment logo which has gained an iconic status in the history of graphic design and advertising. It is seen as a prime example of an Art Deco-influenced design.
The 20th Century Fox logo underwent several modifications throughout the years. A few notable ones were executed by Rocky Longo in 1953 and 1981 and by Kevin Burns in 1994. A commemorative logo was also designed for the James Cameron's blockbuster film Avatar in 2009.The most frequent colour scheme in the 20th Century Fox logo features golden yellow and blue colours.
The 20th Century Fox fanfare was composed in 1933 by Alfred Newman, a longtime head of Fox's music department.
_________________________________________________________________________________________________________________________________________________________
Work is to start imminently on a modest multiplex cinema that will be adjacent to Storyhouse bringing commercial cinema back into Chester.
Picturehouse, which is part of the Cineworld group, will have six screens up and running within two years providing a cinema with an overall capacity of 715 seats, a ground-level foyer and café bar opening onto the new Market Square and Hunter Street.
Picturehouse boasts that programmes will cover mainstream and world cinema with a wide range of cultural content.
_________________________________________________________________________________________________________________________________________________________
The late Paul Wilson was a camera operator and special effects cameraman. Born On the 15th March1925 he worked on numerous films, including Where Eagles Dare, I Could Go on Singing and the black and white Miss Marple films from the early sixties, starring Margaret Rutherford. He was one of several operators working with director of photography Gilbert Taylor on the Beatles movie, A Hard Day's Night (1964), and was the camera operator on the Beatles next outing, the 1965 movie Help! After operating on main units he went into the special effects area and worked on such films as ( Cape Fear (1991), and several Bond films, including Moonraker (1979), GoldenEye (1995) and Die Another Day (2002). He retired after this, aged 77.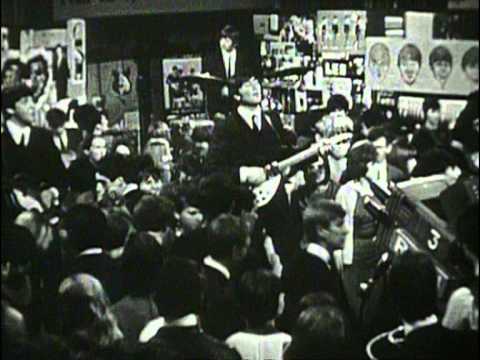 The Making of "A HARD DAY'S NIGHT" click on the above frame to watch
DE: Would you tell me about operating with the Beatles?
PW: Several cameramen were employed on the film A Hard Day's Night. The main operator was Derek Browne and the director of photography was Gilbert Taylor. On one occasion we used five cameras. This was in the Scala theatre in London. Though there were a number of us on the film, the only two camera people credited were Taylor and Browne.
 DE: Were there any difficulties?
PW: A lot of shots were hand held using Arriflex cameras. Some shots involved television sets, so to keep in sync, these were shot at 25frames per second instead of 24. Some shooting was done handheld on trains. As real carriages were used it was sometimes difficult to get shots.
DE: You were the credited operator on Help! Would you tell me a bit about this?
PW: On that we used a mixture of Arri and Mitchell cameras. I had to leave before the end because it overran, and Freddie Cooper took over the operating. The director of photography was David Watkin. The film took around twelve weeks to shoot. We had three weeks in Austria, followed by four in the Bahamas. The rest of the time we shot at Twickenham and locations around London.
DE: What was Margaret Rutherford like?
PW: She was a lovely lady and she always remembered your name. Murder at the Gallop (1963) took around eight weeks to shoot. We started on the film just after Christmas and it was snowing. When we shot the locations we had to remove the snow, as it wasn't supposed to be snowing.
DE: What was the great Judy Garland like in I Could Go on Singing (1962).
PW: It was quite difficult to shoot. The moment she was doing her songs she was fine, it was when she was acting it became difficult. We never knew what she was going to do; it was like shooting a newsreel. Sometimes she would move sideways when it should have been forward.
 DE: I see you were on Chariots of Fire (1981) as the second unit director/ cameraman.
PW: Yes, on that I shot a lot of the running sequences, some in slow motion at 120 frames per second.
DE: You worked with Charles Chaplin on The Countess from Hong Kong (1967), what was that like?
PW: It was an experience. I suggested that we track into the cake in a wedding scene and he said, I don't want any of that Hitchcock stuff in my picture. He was getting on in years but a flash of his early years could be seen when he demonstrated what he wanted.
DE: You worked with Hitchcock on Frenzy (1972). Would you tell me a bit about him?
PW: I worked with him when he was getting on in years, but he was an interesting man to work with. He knew what the camera was seeing all the time. He would say, Paul, what lens have you got on. I would say, for example a 35mm and he would know exactly what it covered.
 DE: Finally, which was your most difficult as an operator and on special effects? Also when did you retire?
PW: As an operator it was Where Eagles Dare (1968) and on special effects Superman (1978). I retired on the film Die Another Day (2002).
Paul Wilson passed away on the 3rd June 2014.
David A Ellis ©chestercinemas.co.uk
________________________________________________________________________________________________________________________________________________________
Preceding "A View To A Kill" the Odeon held a grand opening night when a fully choreographed performance took place on the stage with 007s and the Bond girls to an appreciative capacity audience of 800 movie goers.
The "Diamonds Are Forever" sequence involved one of the girls wearing diamonds valued in excess of 150.000 pounds, a huge sum for that time. A security firm provided the on stage security guards cover demanded by Mappin & Webb.A champagne reception was held in the circle lounge after the film.
____________________________________________________________________________________________________________________________________________________________
ERNEST HALL, the original Odeon chief projectionist who was there from the opening day, Saturday 3rd October 1936, until late 1969 when he retired.
A mild mannered man, he saw many changes during his time at Chester. Like Hugh Jones, chief projectionist at the ABC Regal, he began his career as a rewind boy in the silent cinemas, and had to quickly learn the new sound systems, from sound on disc to the sound track printed on the film. He had a complement of five other projectionists on his staff. The war years were difficult to recruit male staff, so Ernest turned to his wife to help on the projectors. She stayed on for several years after. Pictured here with her husband in this forties picture of the projection room.
There were only five chief projectionists in total at the Odeon from start to finish, of which chief Hall was the longest serving with 32 years at the one cinema.
chestercinemas.co.uk
_______________________________________________________________________________________________________________________________________________________