Our latest update ~ OCTOBER 2018
MOVING pictures have been around since 1896. Since then an amazing amount of footage has rolled through the cameras, producing some great movies, both silent and sound. Sadly, much of the footage has been destroyed in some way, or lost, possibly tucked away in someone's attic or shed. One of the main reasons why nearly eighty per cent of silent output is no more is because the film stock was nitrate and has disintegrated. Some films were badly stored in poor conditions. Some films were destroyed by the film companies to make space on the shelves for new ones. Their attitude was that the film has been out there and now has no more commercial value. This happened in the 1950s and '60s by TV companies. A tape would be wiped to make room for something else. Also, storage was another problem.
There are a number of programmes where there were a great number of episodes, but are now reduced to just one or two. Two examples include Juke Box Jury and Six Five Special, where only a handful have survived. Sometimes a sixteen millimetre copy taken from video would turn up. Examples are early pop shows, which were shot on video, now screened on sixteen millimetre complete with scratches. In these cases the original video has been destroyed.
The surviving prints carried an optical soundtrack and were prints that were sent to overseas markets. In the feature world, some stills and cast/ crew lists survive, even if the film itself hasn't. Some films have been destroyed in studio fires. Universal had a fire back in 1924. Fox suffered one in 1937 and MGM had one in 1965. Martin Scorsese's Film Foundation claims that half of all the American movies made before 1950, and ninety percent before 1929 are gone forever. The Library of Congress state that seventy-five per cent of all silent films are now lost.
On the BFIs most wanted list are the silent films A Study in Scarlet (1914), Hitchcock's The Mountain Eagle (1926) and The Last Post (1929). Sound films include Squadron Leader X (1943) Linda (1960), directed by Don Sharp. Other films on the missing list includes Educated Evans starring Max Miller and Bless 'Em All with the late singer Max Bygraves. Some films are incomplete. Sometimes film's are cut for various reasons, including censorship. The cut footage is usually kept but sometimes it goes missing. The Stanley Kramer film It's a Mad, Mad, Mad, Mad World was premiered at 192 minutes but cut to 162 for general release. In the '80s twenty minutes of the cut footage was found in a warehouse that was due for demolition. The remaining lost road show footage was found in 2013 as part of restoration. A majority of the scenes were complete, the remainder were missing sound or visuals, as they were derived from the original road show prints. Apparently the original elements disappeared a long time ago. Scenes that were cut from The Good the Bad and the Ugly are now believed to be lost.
Bedknobs and Broomsticks was shortened after its premier from two and a half hours to 119 minutes. In 1996 it was decided to restore it to its original length. Most of the cut scenes were found. However, most of the dialogue tracks for the scenes could not be recovered, so where possible, the scenes were dubbed by the original actors. Footage of the song A Step in the Right Direction hasn't been found.
Some lost films and TV episodes have been found. Some TV material is saved because someone made a video recording of it. The late Bob Monkhouse recorded a lot of material. Because of people like Bob, a lot of material has been saved, which would have been lost forever. There are several Dr Who episodes that have been saved from home recordings. The comedy Steptoe and Son is another example of home recording saving the day.
There is still a lot of old material on nitrate stock, which needs transferring to safety stock. The trouble is by the time it is decided to transfer and archive it, the damage is done. With digital technology, a lot of films can be restored to their original quality. A lot of Eastman colour prints and negatives have faded over the years but the digital process will restore elements that have suffered the passing of time. A film doesn't have to be very old to need treatment. The film Lawrence of Arabia (1962) had a full restoration job done on it. Let us hope many more films are preserved for generations to come.
David A Ellis © chestercinemas.co.uk
______________________________________________________________________________________________________________________________________________________
DEREK MOORE
Derek Moore was a third projectionist during the late 50's and early to mid 1960's. He looked after all things mechanical and electrical both in the projection room and the downstairs auxiliary plant. He was one of the projection team selected to do an advanced training course organised by NATTKE, the UK's television, theatre and cinema's union, which set out an in-house plan of further advancement in the areas of electrical and technical expertise. Derek was at the ABC during the cinema's one and only major refurbishment which was carried out during 1963, and the introduction of the stage pop concerts which commenced in 1964.
On the stage concerts he was in charge of the lighting board.  His quick response to lighting cues did not go unnoticed by Stage Managers who traveled with the shows. In 1965 Derek was appointed second technician at the recently opened ABC Blackpool. There he was again involved with stage lighting.  ABC Television broadcast "Blackpool Night Out" every Sunday evening from this theatre.
Leaving cinema and theatre work behind, Derek worked as an electrician on Blackpool's illuminations before heading back to Chester where he was employed at the Countess Of Chester Hospital as an electrician.
He retired in 2001 and passed away seven years later.
 © chestercinemas.co.uk
____________________________________________________________________________________________________________________________________________________
JOYCE HODGKINSON
Some cinema staff became as instantly recognizable as the buildings that they worked in. Odeon's Joyce Hodgkinson was one such lady.
After working for Marks & Spencers, Joyce moved across to the Odeon where she became a most respected and treasured member of staff, also one of the longest serving. She was there in the cinema's heyday, and was witness to some dramatic changes to both the business and the building. She is pictured with general manager, John Ellis, taken in the 1950s.
______________________________________________________________________________________________________________________________________________________
One of the biggest and most difficult stage shows put on at the ABC Chester in the late sixties was the ballet "Casse Noisette" ("The Nutcracker"), starring John Gilpin, the Principal Dancer of the London Festival Ballet. With a full orchestra the two performances were sold out within a few days (4000 tickets). The glittering Gala Performance was attended by many celebrities, Civic dignitaries, with Anne Duchess of Westminster the guest of honour.
The event donated thousands to local charities.
© chestercinemas.co.uk
_________________________________________________________________________________________________________________________________________________________
Frederick Archibald Young was born on 9 October 1902 in London. He entered the film industry in 1917 at Lime Grove Studios, West London. At that time it was run by Gaumont and had a glass exterior to allow light for shooting. Later it was re-built. It became Gaumont British in 1922. Young said the glasshouse was good in theory but in practice wasn't so good. If it was a foggy day the studio became a pea souper. If it were cloudy, lights would be required to provide exposure but if the sun came out the studio would be filled with sunlight and the shot would be ruined.
Young started in the laboratory and eventually moved into cameras, remaining with the studio for ten years. In those days he operated the Debrie Parvo camera. He worked with a cameraman called Arthur Brown. Later, Bill Shenton worked there and despite only having one eye he was considered to be a very good cameraman. Eventually the studio became the home to BBC Television. Housing now stands on the site. One of the films he worked on after leaving Gaumont was Hitchcock's Blackmail (1929) photographed by Jack Cox and made at British International Pictures (BIP). Young was asked to shoot a montage for the silent version.
For several years he worked at British and Dominions at Elstree for producer and director Herbert Wilcox. Cinematographer Oswald Morris said: "He was a powerful cinematographer. He treated film making rather like being in the army. There was strict discipline. At the height of his career his crew had to call him Mr Young."
During WW2 Young was in the Army Kinematograph Service with Freddie Francis. Francis said: "He always insisted on being called Mr Young or sir. After the war Freddie was Freddie to everyone."
Young was the first President of the BSC 1949-1952. He was President again from 1957-1960. He was also a member of the ASC and Fellow of the Royal Photographic Society (FRPS).
Following the war Young became head of cameras at MGM Elstree.
In 1959, faced with a pay cut due to production cuts Young decided to leave the company. The day after leaving he realised that it was the first time he'd been out of work since 1917.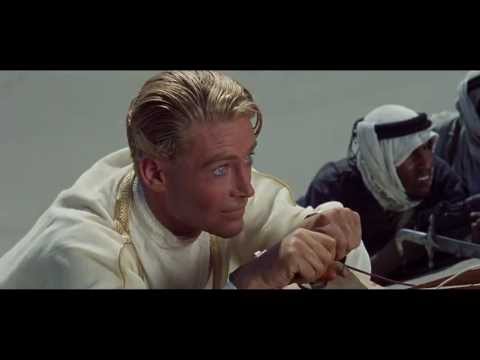 "Lawrence Of Arabia"  Click the above frame to view the trailer
In 1960 he was approached by producer Sam Spiegel to photograph Lawrence of Arabia for director David Lean.
Other notable directors he worked with include George Cukor, John Ford and John Huston.
He first met Lean on Major Barbara (1941). Lawrence was released in 1962 and was the start of three 65mm wide screen pictures with Lean, earning Young three Oscars. Sydney Samuelson said: "Young is definitely 'the master' in my book of cineastes. Arguably and certainly in his era he was the best cameraman in the world. I had the pleasure of involvements with him and his crew from Lawrence of Arabia onwards. David Lean was such a brilliant storyteller but nobody when working on one of his movies would accuse him of being easygoing. Freddie carried on for him regardless of personal and technical problems. Apart from three American Oscars Freddie won many awards including only the second Fellowship after Hitchcock from our own Academy BAFTA."
The three films he made with Lean were a challenge. "Lawrence of Arabia took two years and was shot in Spain Morocco and Jordan. The heat in the desert was a dry heat of 110 degrees. We had a sunshade over the camera and a wet cloth on top of the camera, which acted like refrigerator. We never saw rushes, the results were cabled from London. The famous mirage scene was shot using a 500mm lens. This was obtained from Panavision in Hollywood along with the rest of the camera equipment," said Young.
His next outing with Lean was Dr Zhivago (1965). It was filmed in the heat of Spain but was set in Russia, so a lot of faking was required. Some was shot in Finland. "We painted trees white, coloured hedge rows with white plastic and used hundreds of tons of marble dust," said Young. "We used a blue filter for much of the film and it was my hardest technically."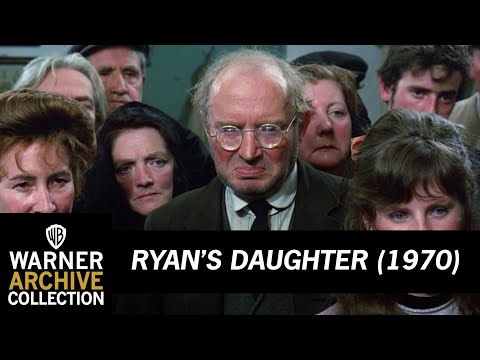 "Ryan's Daughter" Click on the above frame to watch an except
His final film for Lean was Ryan's Daughter (1971). The whole of the film is set on the west coast of Ireland. He said: "Winter came and the summer scenes hadn't been completed, so the main unit went to South Africa, A second unit stayed behind headed by Roy Stevens. Denys Coop was in charge of the cinematography. Lean gives you an inspiration so you go out of your depth and try and do something extraordinary."
In 1992 Lawrence of Arabia was re-launched and Young went to several screenings. At one screening Steven Spielberg told him it was seeing Lawrence in 1962 that made him decide a film career was for him.
Young said that people often ask him about his techniques. He said he had no plan or technique; he lit the scene according to what was in the script.
Following Ryan's Daughter he carried on shooting until 1983. The same year he directed Arthur's Hallowed Ground, his only film as director and the last he worked on. After this he shot commercials until his retirement aged eighty-five. His autobiography was published by Faber and Faber in 1999 called Seventy Light Years, which can be obtained through Amazon.
Young worked in the industry for seventy years, photographing more than 120 films and being paid for a job he loved.
Freddie Young OBE passed away on 1 December 1998 age 96
David A Ellis © chestercinemas.co.uk
_________________________________________________________________________________________________________________________________________
WELL WORTH A VISIT!
Stockport's magnificent PLAZA. A shining example of bringing traditional cinema and theatre back in all it's glory. Well worth a visit.
________________________________________________________________________________________________________________________________________________________