Chester Theatres~ the latest updates
Curtain Up on local theatre!
We Are Open! That's the message proudly displayed on the canopy of Storyhouse, Chester's multi-purpose cultural centre housed in our beloved former Odeon Cinema. Following yet another enforced period of closure due to National lockdown measures, the venue has steadily been re-opening as restrictions have gradually been lifted, opening fully from Monday 17th May. The venue's theatre, cinema, library and The Kitchen are now all open.
All cinema seating will be socially distanced, meaning capacity is limited.
Indoor performances will also resume with social distancing measures in place.
Storyhouse's activities with young people will continue, including its Youth Theatre and young leaders programmes. Plus, the Storyhouse young programmers will launch their exclusive theatre project with industry leaders Half Man Half Bull. There will also be an opportunity for aspiring marketers to sign up for the latest Young Marketers course and the young readers on the lookout for new book-worm recruits.
Grosvenor Park Open Air Theatre in Grosvenor Park is being built ready to open on Saturday 29 May, and in the cathedral's Dean's Field, open air cinema hit Moonlight Flicks kicks off.
And for foodies Storyhouse's award winning restaurant The Kitchen will reopen to serve food daily, with dishes inspired by the Levant. Whilst outside on Northgate Street Storyhouse's Grill will continue to serve BBQ wraps Friday – Sunday.
Full details at www.storyhouse.com
Paul Crofts
____________________________________________________________________________________________________________________________
Meanwhile, across the border in North Wales, Theatr Clwyd are also gradually re-opening this month with a varied season of shows and events both indoors and at their own open-air theatre, including live music performances, plays, comedy, workshops, activities for younger theatre-goers, online events and more.
For full details go to www.theatrclwyd.com
Final preparations are underway as a local theatre company prepares to make a welcome return to the stage following the lifting of lockdown restrictions.
Following on from the sell-out success of their previous show "Musical Magic", popular local theatre company Tip Top Productions, formerly based at The Forum Studio Theatre in Chester, will return to Theatr Clwyd near Mold for two special performances of a new show which is being staged as part of Theatr Clwyd's outdoor season of events.
The show "Tip Top's Summer at The Musicals" takes place on Sunday 15th August 2021 with performances at 3pm and 7pm and features songs from popular West End and Broadway Musicals performed by a cast drawn from Tip Top's talented performers including Brian Fray, Ellison Roberts, Laura Morris, Lee Randle, Mike Jenkinson-Deakin and Natalie Brett.
Audience members are asked to bring suitable portable camping seating or rugs, cushions etc with them so as to enjoy the unique atmosphere of Theatr Clwyd's outdoor performance space.
Speaking about returning to Theatr Clwyd for this year's outdoor season, the show's Director Steve Davies said " I'm thrilled to have the opportunity to invite such wonderful performers to the Theatr Clwyd open air stage. We have created a great set list that will introduce the audience to some new songs as well as reminding them of lots of 'old favourites' ". The show will include songs from much loved musicals including Oklahoma,  The Sound of Music and Cabaret, alongside newer shows including Waitress, Bat Out Of Hell and West End and Broadway smash hit Hamilton.
Tickets for "Tip Top's Summer at The Musicals" are priced at £10 For full details and online booking go to www.chestertheatre.co.uk.
Tickets are also on sale for "The Show Must Go On", Tip Top's return to the Theatr Clwyd indoor stage which runs at the Anthony Hopkins Theatre from Wednesday 27th – Saturday 30th October at 7.30pm with a Matinee performance at 2.30pm on Saturday 30th October. Full details can be found at www.theatrclwyd.com where tickets can also be booked online.
Paul Crofts
____________________________________________________________________________________________________________________________
TOP CHESTER CHOIR BACK ON SONG FOLLOWING LOCKDOWN AS ANNIVERSARY PLANS TAKE SHAPE
One of Chester's top Choirs has held its first face to face rehearsal in over a year following the easing of lockdown restrictions as it makes plans to celebrate a special anniversary.
Risking unseasonably wet weather, members of Chester Male Voice Choir recently held a socially distanced outdoor rehearsal at Chester Rugby Club, the first time they have sung together face-to-face since early March 2020.
Speaking about getting together in person after such a long gap, choir Chairman John Walsh said "The weather was fortunately kind to us and the excellent turn-out showed how much members wanted to get back to singing together. We are grateful to our MD Rod Jones who turned out to lead us on his birthday along with Helen Jackson our accompanist. A programme of songs was selected that avoided loud singing and several breaks were taken in the planned one-hour session. It was gratifying to see that, despite such a long period, we made a decent job of our first sing in over a year".
Despite lockdown restrictions, since March last year, members of the choir have kept in touch with online Zoom meetings twice a week. These have included all manner of social activities, the learning of new songs in the safety of their own homes as well as being kept busy contributing virtual performances to various local online events. The choir also produced 6 so-called lockdown videos, all of which are available to view on the choir's YouTube channel. With no revenue from performances to contribute to operating costs during the lockdown, the choir has been grateful for the support it has received from its President the Duchess of Westminster and also from The Ursula Keyes Trust for the provision of a grant enabling the purchase of updated stage equipment.
The choir has also recruited several new members during the year and is now making plans for a return to regular rehearsals in July as well as live performances. Their first concert of 2021 is planned to take place at St Columba's Parish Hall in Plas Newton on Saturday 18th September. John said "We so want to get back to performing for our supporters and followers and are making plans in the hope that by that date, we will legally be able to do so and can be satisfied as to its Covid safety." John added "this will be a first opportunity for new members recruited during lockdown to perform with us. I do believe that the constraints of lockdown will have focussed the minds of many men in the locality towards wanting more from life both socially and musically and they are invited to contact us to learn how easily they could make that a reality".
The face-to-face get together at Chester Rugby Club was also a chance to remember two long serving members of the choir who sadly passed away during the lockdown, Bob Cunningham and Mike Heathcote. Bob was honoured posthumously with a special long service award received by his Widow Sheila last year and Mike was awarded an Honorary Life Membership just weeks before he sadly passed away in November. Speaking about the immeasurable contribution both had made during 60 and 50 years' service respectively to the choir, John Walsh said "It's incredible that these two stalwarts of the choir gave such significant service but it's a measure of the enjoyment and camaraderie that comes with membership of a choir and our choir in particular. They are both sadly missed and will be long remembered".
During the rehearsal, presentations of Honorary Life Memberships and long service awards were made to Lance Howie marking his more than 30 years and Derek Hewson in recognition of 40 years with the choir. Both presentations had previously been postponed due to lockdown restrictions.
2021 marks the 80th Anniversary of the choir which was originally formed in 1941 as The Cestrian Male Voice Choir and the management committee is currently working on plans to celebrate this major milestone with events being staged throughout 2021/22, including a special 80th Anniversary Concert with Foden's Band at Chester Cathedral on 16th July next year.
Full details of the choir and how to get involved can be found at www.chestermalevoice.com. Alternatively, contact choir Chairman John Walsh on 07894 509529 or email john.walsh@chestermalevoice.com
Paul Crofts
____________________________________________________________________________________________________________________________
A Chester based Actor and Drama Teacher has appeared on national television in a dramatic reconstruction of a police investigation into a shocking murder which saw pioneering DNA mapping technology used for the first time to help crack the case.
Actor Stuart Evans appeared recently in an episode of the popular TV series Judge Rinder's Crime Stories. The episode which aired on ITV saw Stuart playing Senior Investigating Officer Kevin Flint of Nottinghamshire Police in a dramatised reconstruction of the events surrounding the investigation into the brutal murder of 87-year-old Mansfield resident Gladys Godfrey in 2002. The show told how the use of a technique known as familial DNA mapping helped to bring Mrs Godfrey's killer to justice, resulting in the handing down of a life sentence.
Stuart 39, originally from The Wirral travelled from Chester to the ITV Studios at Salford's Media City to film the episode back in April last year. Speaking about filming for the show, Stuart whose previous TV credits include the classic BBC comedy "Two Pints of Lager and a Packet of Crisps" said "It was a great experience to work at Media City. The feeling in the studio was difficult to explain, it was strange, we were filming scenes about this awful crime, yet we were having a great time on set. I think we were all trying to lift each other, being very aware of the sensitive nature of what we were portraying".
Stuart, a graduate of the Liverpool Academy of Performing Arts(LIPA) and a drama teacher with Wirral Academy of Performing Arts (WAPA) is also well known to theatregoers for his stage appearances with companies including Tip Top Productions and Chester Little Theatre. Last year, Stuart co-founded theatre company Against The Grain with colleagues Mark and Marian Newman and Paul Crofts. The company made its debut at Storyhouse in Chester in 2019 with a production of "Worldly Women" written by popular Chester based writer Jan Bengree for the Storyhouse Women's Festival. Other projects to date with Against The Grain have included a sell-out out production of Jan's "Small Tales" which saw Stuart both acting and directing. Stuart's numerous theatre credits include "Bouncers", "Flint St Nativity", "Fawlty Towers", "The Homecoming", "The Killing of Sister George" and "Glorious!".
Most recently Stuart filmed scenes for "It's A Sin" (formally "Boys"), a 5-part CH4 drama series by acclaimed Doctor Who and Years and Years screenwriter Russell T Davies OBE starring Olly Alexander which follows the lives of three young gay men in 1980s London as they cope with the start of the AIDS epidemic. In March, prior to Lockdown, Stuart appeared in a production of the classic Ealing comedy "The Ladykilllers" at Chester Little Theatre.
Amongst Stuart's upcoming projects post Covid will be the staging of brand-new twisted comedy "Mr Dumpling" penned by his good friend and colleague Mark Newman for Against The Grain. The play was due to have been staged by the company at The Forum Studio Theatre in Chester in July this year but sadly had to be postponed due to the Coronavirus pandemic.
Speaking about the impact of Covid restrictions on the arts and his desire to perform in front of a live theatre audience as soon as restrictions are lifted Stuart said "I don't think people fully realise the impact that the restrictions around the closure of theatres and other venues continues to have on the industry. It's not just the actors, the directors, the people we automatically think about when we hear theatre or film and TV, it's so much more, the dressers, the props team, the set designers, lighting, sound, ushers, box office, caterers I could go on and on. I miss being in a theatre or on set, there's a creative energy there. I miss my students, my colleagues and just being in that environment. My hope for the new year is that things will improve and the industry will bounce back."
Further details of Against The Grain, the theatre company co-founded by Stuart, can be found at www.facebook.com/atgtc
Paul Crofts
____________________________________________________________________________________________________________________________
"Tip Top Productions staging of the BBC comedy masterpiece "Fawlty Towers" featuring 3 of the most famous episodes from the classic series."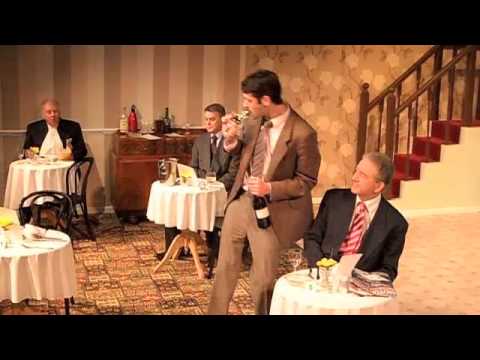 Click on the above frame to view
______________________________________________________________
The 2014 production of "Avenue Q" – staged at The Forum Studio Theatre, Tip Top staged this sell out production to great critical acclaim.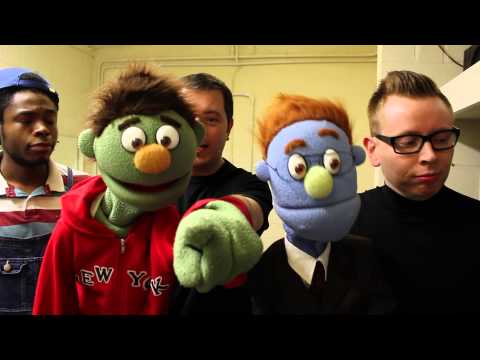 Click on the above frame to view
______________________________________________________________
The brash, disco fuelled campfest "Priscilla Queen of The Desert – The Musical" which Tip Top staged at Theatr Clwyd in 2018.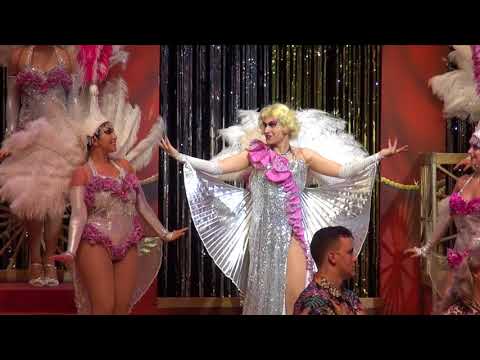 Click on the above frame to view
______________________________________________________________
Tip Top Productions 2013 staging at The Forum Studio Theatre of the classic Noel Coward play "Blithe Spirit".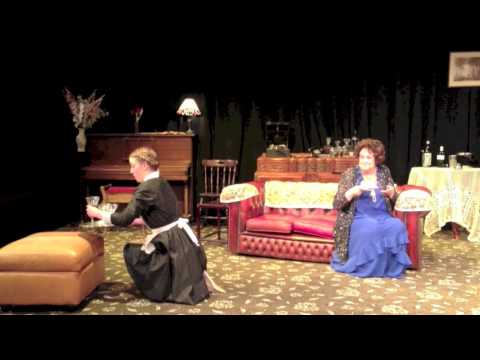 Click on the above frame to view
____________________________________________________________________________________________________________________________
TOP CHESTER CHOIR SINGS THE PRAISES OF LONG SERVING MEMBERS
Long serving members of one of Chester's top choirs have been honoured with special awards celebrating their contribution to music making spanning 60 years.
Special badges and awards of Honorary Life Memberships have been conferred on 10 long serving members of Chester Male Voice Choir with 5 of the awards being made at special presentations held outside members' homes in order to comply with the Covid-19 restrictions in place at the time.
The presentations were made by the Chairman of the choir John Walsh accompanied by Committee members Ron Webster and Blair Wilson. Recipients included Norman Harvey for 37 years' service, Mike Hendy, 44 years, Roy Gallimore 48 years, Geoff Hewson, also with 48 years' service and Mike Heathcote, 50 years. Unfortunately, due to travel and other restrictions, presentations have yet to be made to some members including Lance Howie, 30 years' service, Gerry Smith 36 years, and Howard Millington and Derek Hewson 40 years' service. The presentation of a posthumous award in memory of the late Bob Cunningham in recognition of his 60 years' service with the choir was also made to his wife, Sheila.
Speaking about the special presentations, John Walsh said "2021 will be the 80th anniversary of the choir's formation. Not surprisingly, we have members who have given long service and we felt it appropriate to give them the recognition they richly deserve with the award of the status of Honorary Life Membership. Special ceramic badges were designed for recipients to proudly wear on their uniform and certificates signed by our President Her Grace The Duchess of Westminster were printed and framed. The qualification level chosen was 30 years and every subsequent 10 years. We found we had no less than 10 members who qualified with, amazingly, one at 50 years and one at 60 years! It is testament to the pleasure gained from membership that choir members stay so very long. Most of those recognised have been Committee Members, Chairmen Secretaries and Treasurers during their tenure. Under normal circumstances we would have held a special awards evening for all members and families but that wasn't possible due to Covid. So, with colleagues Ron Webster and Blair Wilson who developed the scheme, we donned our uniform suits and took to the road to make presentations on our award winners' doorsteps! Blair's son Thomas made a video of the whole process which we shared online with all our members."
Amongst those to receive his award at one of the special doorstep ceremonies was Mike Heathcote of Saughall. Mike 82, a former Chairman of the choir has been a member for an impressive 50 years and was instrumental in organising some of the groups many concert tours throughout the UK and oversees, including one to South Dakota USA in 1980.
Speaking about receiving the special honour, Mike, a retired Police officer said "I was surprised and delighted by the award of Honorary Life Membership. The fellowship of the Choir has played such an important part in my life and that of my family. There have been so many highlights over the last 50 years, not least singing in the great cathedrals of Europe including, amongst others St. Vitus in Prague, Notre Dame in Paris and Cologne Cathedral. It's also been a privilege to share the Chester concert stage with several world-famous stars such as Sir Bryn Terfel, and Sir Willard White, and to have participated in several massed Male Voice Choir concerts at the Royal Albert Hall. Most of all, I value very much the many friendships that myself and my family have made as a result of my being a member of the choir, that is something really special."
Although unable to currently perform in public due to coronavirus restrictions, members of the choir have been keeping active during the pandemic, rehearsing via Zoom and recording a special arrangement of "You'll Never Walk Alone" in tribute to the NHS and front-line workers. Full details of Chester Male Voice Choir and how to get involved can be found at www.chestermalevoice.com
Paul Crofts
____________________________________________________________________________________________________________________________
____________________________________________________________________________________________________________________________