Chester Theatres~ the latest updates
With lockdown restrictions still in place surrounding live performance, the theatre industry is still finding ways to reach its audiences,
Paul Crofts brings us the latest news from our local Arts venues.
Musicians from across the Chester, North Wales and North West live music scene have once again come together to produce a second charity album during the coronavirus lock-down to raise much needed funds for an organisation which supports Nurses and other healthcare professionals in times of hardship.
The album, Covered:21, is a follow up to Covered:19, an album produced by Chester based musician and blogger Dan Schott which set out to raise funds for The Cavell Nurses Trust, a nationwide charity which helps nurses, midwives and healthcare assistants in times of need. Produced during the first lockdown in 2020, the original album generated 1000+ downloads.
With the pandemic ongoing, Dan once again reached out to musicians from across the Chester and North Wales music scene to produce the brand-new album of covers which has been released with the aim of encouraging donations to the Nurses charity.
Speaking about producing the album in support of the charity, Dan said "The Album is another free gift from the Chester and North Wales music scene to raise awareness of the work of The Cavell Nurses Trust. In 2020, the Chester and North Wales music community came together to release Covered:19 to support the charity. The trust helps nurses, midwives and healthcare assistants, both working and retired, when they're suffering personal or financial hardship. This is often due to illness, disability, older age and domestic abuse. They rely on amazing fundraisers, donors, members and sponsors to ensure nurses in need have somewhere to turn in their hour of need.
The album, given away free, with suggested donations to the charity, generated 1000+ downloads and was not only done for the right reasons but was a very good musical release During the current lock-down, the scene came back together again to put together Covered:21, a brand-new compilation of covers from some of the very best regional artists and beyond, to again support Cavell Nurses Trust in their essential work."
Dan added "This album is a testament to the rich and diverse grassroots scene we have in the city and over the border, and takes in a lot of different styles and genres, resulting in an eclectic, high-quality release."
All the tracks on the album were recorded during lock-down by the musicians in their own homes with Dan on editing and mixing duties to produce the finished product. Tracks have been contributed by local musicians Andy Peggs, Ian O'Brien, Supa Nova, Startripper, Paul Williams, Guy Bengree, Tim Chapman, Sword Swinging Robot, Will Riding, Captain Andy, Steve Jones, Love Village, Tom Collins, Russell Mabbutt, Marianne Holland, David Watson, Skellums, Johnny Diamond, Steve Crocker, 4th Eden, Vibravoid, Simon Hunter, Sea Mooks Lockdown Unit, The There Or Thereabouts Brigade, Skeet Williams & Deborah Jackson, Malaeus, and Sonic Trip Project. Original artwork for the album cover has been designed once again by local artist Dai Owen.
Speaking about the sense of camaraderie amongst the artists involved in bringing the album together, Dan said "This has been another very healthy experience for all of us, I've certainly enjoyed connecting with musicians and promoters in getting this release together during these isolating times.  Behind the scenes, there's been a real spirit of camaraderie in this project and once again, the journey in getting here, has been as fulfilling as the end product. If you like the album, and can afford it, we kindly suggest you donate to the trust, although, musicians of all people, understand the current hardships everyone is going through financially, so we hope you enjoy the release regardless. I would like to thank all the talented artists for their hard work and dedication in getting this project off the ground and for the continued trust given to me to bring it all together."
The album is currently available as a free download at www.neonkrishna.bandcamp.com/album/covered-21.
Donations to the Cavell Nurses Trust can be made via https://www.cavellnursestrust.org/donate-now/
Paul Crofts
____________________________________________________________________________________________________________________________
FAREWELL TO CITY CENTRE HOME
A theatre company which has become a firm favourite with theatregoers in Chester and the surrounding areas has announced exciting plans for its future as it prepares to leave its city centre home. Theatre company Tip Top Productions has announced that it will leave The Forum Studio Theatre in Chester in 2021. The move is due in part to ongoing preparations which will see the venue making way for phase two of the Northgate Development.
The company, founded by Peter Swingler OBE in 1989, moved into the former Chester Gateway Theatre building initially for a period of just one year in 2007 and has been a popular addition to the cultural life of the City for the last 13 years during which time it has built up a reputation for staging high quality shows including Chester's very own traditional family Pantomime as well as playing host to live music events and touring shows.
Speaking about the company's decision to bring the curtain down on their Chester home, Brian Fray, chairman of Tip Top Productions said "The time is right for an exciting new chapter, we are extremely proud of all that we have achieved at The Forum Studio Theatre, we took on the building to do just one season of shows way back in 2007 and no-one then could have predicted that we would go on to enjoy 13 very successful years, there are lots of happy memories. I would like to pay tribute to all our members, volunteers and audiences for their continued support. As a registered charity, the Board have done an extremely good job in protecting our finances over the past 8 months and this is fundamental for our survival and ability to be able to continue to stage large scale productions in the future. Whilst our exit from The Forum Studio will be brought forward ever so slightly, the most important thing now is that we remain in really good shape to enable us to continue producing both small and large scale productions when the time allows us to do so. We have some exciting plans in the pipeline for future shows so watch this space."
Since making the announcement to members at its AGM and via social media to its friends and supporters, Tip Top has been overwhelmed by countless messages of support including from Angela Ferguson, editor of We Are Chester who tweeted "It's the end of an era for @tiptoptheatre in Chester, we've so many fond memories of our visits to the Forum Studio Theatre but now we look forward to seeing what the next act in Tip Top's story has in store for us" whilst Tony Chester of popular Chester blog @sh*tchester tweeted "Very sad to hear Tip Top Productions are leaving The Forum, looking forward to supporting @tiptoptheatre in the future." Another supporter said "Thank you so much for keeping the arts alive in Chester and the building singing since the Gateway Theatre closed in 2007. So sad to leave all the memories behind but the start of something new and exciting". Many comments centred on Tip Top's legendary Pantomimes with several supporters saying how much they will miss their festive visits to the intimate surroundings of The Forum Studio Theatre including one who said "We have lots of wonderful Panto memories at The Forum. It's been our Christmas Eve tradition for a good many years. My boys and I will miss it terribly, such a lovely intimate show every year, we look forward to hearing where your new venue will be."
Speaking about the company's future plans, Steve Davies, Tip Top's Artistic Director said "In our early days, prior to our time at The Forum Studio Theatre, we performed predominantly at The Gateway Theatre, Wrexham Studio Theatre within Yale College, and The William Aston Hall within what is now Glyndwr University in Wrexham. But we didn't have a home. We rehearsed in lots of different places – scout huts, church halls, schools, etc. There was a wonderful feeling of community and a brilliant excitement about getting together to create these big productions. So, my job for the next few months is to create a season of productions very similar to those we used to stage prior to being at The Forum. I'm going to be working closely with existing partnerships – for example Theatr Clwyd – but also revisiting old haunts and investigating new relationships too. We already know that we potentially have two weeks pencilled in at Theatr Clwyd for 2021. But COVID is still playing a big part in that process. We have to wait for confirmation of what's allowed in theatres before we can make a decision. Playing to a full house of 450 will be very different to playing to a socially distanced capacity of 100, spread out across the Anthony Hopkins auditorium for example. As soon as it's safe to do so, we will be back on stage doing the thing we all love, the show must go on!"
Meanwhile, Tip Top's lockdown season of virtual events continues online via Zoom with festive events now being planned. Full details can be found at www.chestertheatre.co.uk to register to take part, email lockdown@tiptopproductions.co.uk
Paul Crofts
____________________________________________________________________________________________________________________________
A Chester based Actor and Drama Teacher has appeared on national television in a dramatic reconstruction of a police investigation into a shocking murder which saw pioneering DNA mapping technology used for the first time to help crack the case.
Actor Stuart Evans appeared recently in an episode of the popular TV series Judge Rinder's Crime Stories. The episode which aired on ITV saw Stuart playing Senior Investigating Officer Kevin Flint of Nottinghamshire Police in a dramatised reconstruction of the events surrounding the investigation into the brutal murder of 87-year-old Mansfield resident Gladys Godfrey in 2002. The show told how the use of a technique known as familial DNA mapping helped to bring Mrs Godfrey's killer to justice, resulting in the handing down of a life sentence.
Stuart 39, originally from The Wirral travelled from Chester to the ITV Studios at Salford's Media City to film the episode back in April last year. Speaking about filming for the show, Stuart whose previous TV credits include the classic BBC comedy "Two Pints of Lager and a Packet of Crisps" said "It was a great experience to work at Media City. The feeling in the studio was difficult to explain, it was strange, we were filming scenes about this awful crime, yet we were having a great time on set. I think we were all trying to lift each other, being very aware of the sensitive nature of what we were portraying".
Stuart, a graduate of the Liverpool Academy of Performing Arts(LIPA) and a drama teacher with Wirral Academy of Performing Arts (WAPA) is also well known to theatregoers for his stage appearances with companies including Tip Top Productions and Chester Little Theatre. Last year, Stuart co-founded theatre company Against The Grain with colleagues Mark and Marian Newman and Paul Crofts. The company made its debut at Storyhouse in Chester in 2019 with a production of "Worldly Women" written by popular Chester based writer Jan Bengree for the Storyhouse Women's Festival. Other projects to date with Against The Grain have included a sell-out out production of Jan's "Small Tales" which saw Stuart both acting and directing. Stuart's numerous theatre credits include "Bouncers", "Flint St Nativity", "Fawlty Towers", "The Homecoming", "The Killing of Sister George" and "Glorious!".
Most recently Stuart filmed scenes for "It's A Sin" (formally "Boys"), a 5-part CH4 drama series by acclaimed Doctor Who and Years and Years screenwriter Russell T Davies OBE starring Olly Alexander which follows the lives of three young gay men in 1980s London as they cope with the start of the AIDS epidemic. In March, prior to Lockdown, Stuart appeared in a production of the classic Ealing comedy "The Ladykilllers" at Chester Little Theatre.
Amongst Stuart's upcoming projects post Covid will be the staging of brand-new twisted comedy "Mr Dumpling" penned by his good friend and colleague Mark Newman for Against The Grain. The play was due to have been staged by the company at The Forum Studio Theatre in Chester in July this year but sadly had to be postponed due to the Coronavirus pandemic.
Speaking about the impact of Covid restrictions on the arts and his desire to perform in front of a live theatre audience as soon as restrictions are lifted Stuart said "I don't think people fully realise the impact that the restrictions around the closure of theatres and other venues continues to have on the industry. It's not just the actors, the directors, the people we automatically think about when we hear theatre or film and TV, it's so much more, the dressers, the props team, the set designers, lighting, sound, ushers, box office, caterers I could go on and on. I miss being in a theatre or on set, there's a creative energy there. I miss my students, my colleagues and just being in that environment. My hope for the new year is that things will improve and the industry will bounce back."
Further details of Against The Grain, the theatre company co-founded by Stuart, can be found at www.facebook.com/atgtc
Paul Crofts
____________________________________________________________________________________________________________________________
"Tip Top Productions staging of the BBC comedy masterpiece "Fawlty Towers" featuring 3 of the most famous episodes from the classic series."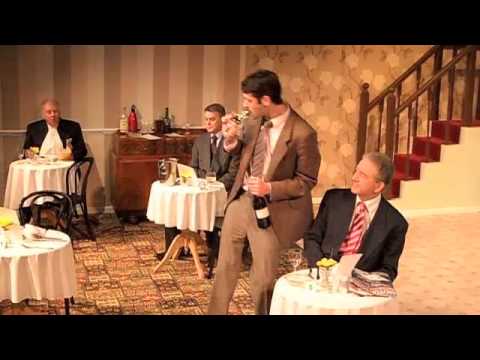 Click on the above frame to view
______________________________________________________________
The 2014 production of "Avenue Q" – staged at The Forum Studio Theatre, Tip Top staged this sell out production to great critical acclaim.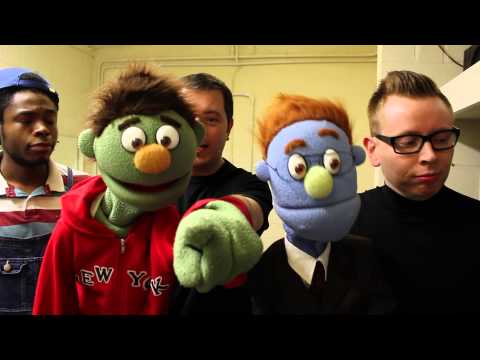 Click on the above frame to view
______________________________________________________________
The brash, disco fuelled campfest "Priscilla Queen of The Desert – The Musical" which Tip Top staged at Theatr Clwyd in 2018.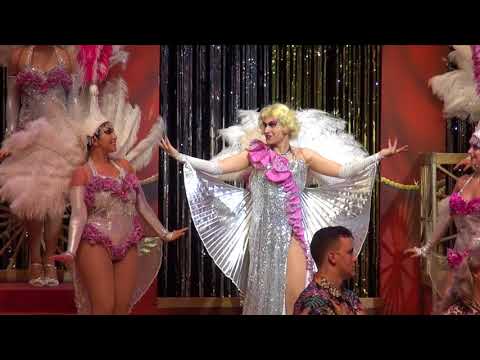 Click on the above frame to view
______________________________________________________________
Tip Top Productions 2013 staging at The Forum Studio Theatre of the classic Noel Coward play "Blithe Spirit".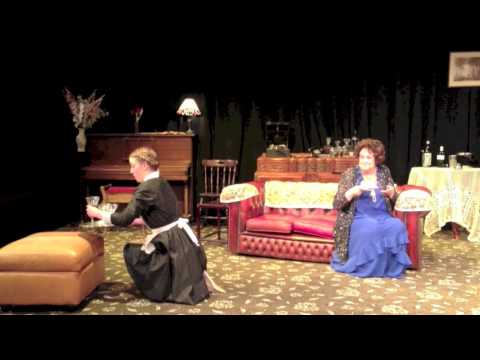 Click on the above frame to view
____________________________________________________________________________________________________________________________
TOP CHESTER CHOIR SINGS THE PRAISES OF LONG SERVING MEMBERS
Long serving members of one of Chester's top choirs have been honoured with special awards celebrating their contribution to music making spanning 60 years.
Special badges and awards of Honorary Life Memberships have been conferred on 10 long serving members of Chester Male Voice Choir with 5 of the awards being made at special presentations held outside members' homes in order to comply with the Covid-19 restrictions in place at the time.
The presentations were made by the Chairman of the choir John Walsh accompanied by Committee members Ron Webster and Blair Wilson. Recipients included Norman Harvey for 37 years' service, Mike Hendy, 44 years, Roy Gallimore 48 years, Geoff Hewson, also with 48 years' service and Mike Heathcote, 50 years. Unfortunately, due to travel and other restrictions, presentations have yet to be made to some members including Lance Howie, 30 years' service, Gerry Smith 36 years, and Howard Millington and Derek Hewson 40 years' service. The presentation of a posthumous award in memory of the late Bob Cunningham in recognition of his 60 years' service with the choir was also made to his wife, Sheila.
Speaking about the special presentations, John Walsh said "2021 will be the 80th anniversary of the choir's formation. Not surprisingly, we have members who have given long service and we felt it appropriate to give them the recognition they richly deserve with the award of the status of Honorary Life Membership. Special ceramic badges were designed for recipients to proudly wear on their uniform and certificates signed by our President Her Grace The Duchess of Westminster were printed and framed. The qualification level chosen was 30 years and every subsequent 10 years. We found we had no less than 10 members who qualified with, amazingly, one at 50 years and one at 60 years! It is testament to the pleasure gained from membership that choir members stay so very long. Most of those recognised have been Committee Members, Chairmen Secretaries and Treasurers during their tenure. Under normal circumstances we would have held a special awards evening for all members and families but that wasn't possible due to Covid. So, with colleagues Ron Webster and Blair Wilson who developed the scheme, we donned our uniform suits and took to the road to make presentations on our award winners' doorsteps! Blair's son Thomas made a video of the whole process which we shared online with all our members."
Amongst those to receive his award at one of the special doorstep ceremonies was Mike Heathcote of Saughall. Mike 82, a former Chairman of the choir has been a member for an impressive 50 years and was instrumental in organising some of the groups many concert tours throughout the UK and oversees, including one to South Dakota USA in 1980.
Speaking about receiving the special honour, Mike, a retired Police officer said "I was surprised and delighted by the award of Honorary Life Membership. The fellowship of the Choir has played such an important part in my life and that of my family. There have been so many highlights over the last 50 years, not least singing in the great cathedrals of Europe including, amongst others St. Vitus in Prague, Notre Dame in Paris and Cologne Cathedral. It's also been a privilege to share the Chester concert stage with several world-famous stars such as Sir Bryn Terfel, and Sir Willard White, and to have participated in several massed Male Voice Choir concerts at the Royal Albert Hall. Most of all, I value very much the many friendships that myself and my family have made as a result of my being a member of the choir, that is something really special."
Although unable to currently perform in public due to coronavirus restrictions, members of the choir have been keeping active during the pandemic, rehearsing via Zoom and recording a special arrangement of "You'll Never Walk Alone" in tribute to the NHS and front-line workers. Full details of Chester Male Voice Choir and how to get involved can be found at www.chestermalevoice.com
Paul Crofts
____________________________________________________________________________________________________________________________
____________________________________________________________________________________________________________________________