Architects: Gray, Evans and Crossley.
Building Contractors: William Tomkinson & Sons.
Cost: £25.000.
First General Manager: Austin Durrans.
Seating Capacity: stalls 676 seats, balcony 333. Total capacity – 1009.
Opening film: "Mississippi" starring Bing Crosby.
The last film shown was "I'm Alright Jack" starring Peter Sellers.
The Mayfair cinema Huyton was owned by a private company whose directors were A E & J P Fortnam, G Fortnam-Appleton & Joseph A Appleton, and designed by the renowned Liverpool architects, Gray, Evans and Crossley.
On Saturday 18th September 1937, 500 guests were invited by the Directors to attend a special viewing of the new Mayfair cinema prior to it's opening to the public. They received afternoon tea and were handed a souvenir opening souvenir programme. The assembled guests witnessed the chairman of Huyton Council, Councillor J Strathdene, being presented with a silver key by the Directors as a token of thanks for his part in opening the cinema. They then watched the Mayfair's first film, the 1935 Paramount feature  ~ "Mississippi" starring Bing Crosby.
Click on the above frame to watch the complete film of  ""Mississippi"
The film chosen for the Grand Opening on Monday 20th September 1937 was the Paramount production of  ~ "The Plainsman" starring Gary Cooper and Jean Arthur.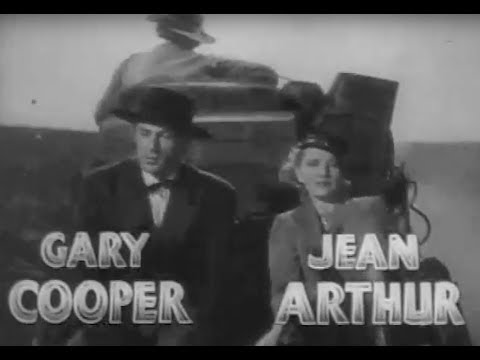 Click on the above frame to watch the trailer for "The Plainsman"
The auditorium was designed so that the balcony was set back from the stalls completely, thus reducing the claustrophobic feeling customers had when being under a low ceiling in the stalls area.  The seating contract was awarded to C R Harrison & Sons Ltd who furnished the complete auditorium with plush red velvet upholstered seats. The plaster work was fairly basic with most of the audiences attention drawn towards the proscenium with it's magnificent satin curtains that were lit with a lighting system which changed automatically through a spectrum of colours. The splay walls either side of the stage had decorative balconette features which featured a short pillar topped off with a light fitting that illuminated this recessed display.
The projection department was equipped with the most up-to date sound apparatus and projectors supplied by British Talking Pictures Ltd. The projection suite of rooms could be accessed directly from the street level. The cinema also boasted having it's own private car park which accommodated a hundred cars.
Locals branded the Mayfair as "the ranch" as westerns seemed to dominate the programmes.
The Mayfair's business declined sharply during the 1950s and after only 23 years in operation  closure came on 30th April 1960 with the final film shown ~ "I'm Alright Jack" starring Peter Sellers and Ian Carmichael.
The building partly survives, and is in retail use by Boots the Chemist.
©chestercinemas.co.uk