Odeon Cinema, Brook Street, Wrexham.
Odeon Wrexham
Opened: 13th March 1937
Closed: 15th May 1976
Capacity: 1246 seats.. single screen
Architects: Harry Weedon and Budge Reid
Final chief projectionist: Mervyn Howell
Opening on 13th March 1937 the Art Deco exterior was faced in cream faience tiles. It had a tall slender tower and a parade of shops that was let to local businesses. Situated slightly away from the town centre on Brook Street.  The first film shown was "Song of Freedom" starring Paul Robson. Designed by architect Harry Weedon who was assisted by Budge Reid from the Harry Weedon Partnership.
The total seat capacity was 1246.  The auditorium was made up of 958 seats in the stalls and 288 in the circle.
A series of coves ran across the width of the ceiling  leading towards the screen.  These contained concealed lighting.  Either side of the proscenium were deep panels of plaster-work grills designed by interior designers Mollo & Egan.  These were illuminated with concealed lighting.
During 1972 the cinema began an operation of 3 days bingo and four days of cinema. This quickly changed to four days of bingo and only three for cinema. Eventually the cinema operation moved out of the building.  The final film-"The Man Who Would Be King" starring Sean Connery was shown on 15th May 1976.
The bingo business moved to new premises in May 1999.  At present the building is open as a nightclub.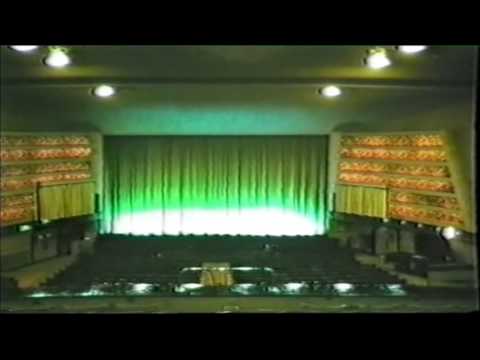 Click on the above frame to watch the video of Wrexham Odeon
COMPTON LODGE copyright
chestercinemas.co.uk
________________________________________________________________________________________________________________________________________________________