Odeon Technical
THE COMPLETE LINE-UP OF CHESTER ODEON CHIEF PROJECTIONISTS
                             Slide presentation on this frame begins in a few seconds
Above~ This 1940s picture features chief projectionist Ernest Hall with Gordon Potter, who became chief in 1968.  
Below~ Gordon is pictured standing in the same spot next to the Cinemation console 1971
Above~ May 1971 Gordon Potter at the Cinemation console & at the side of the Cinemeccanica Victoria 8 projector.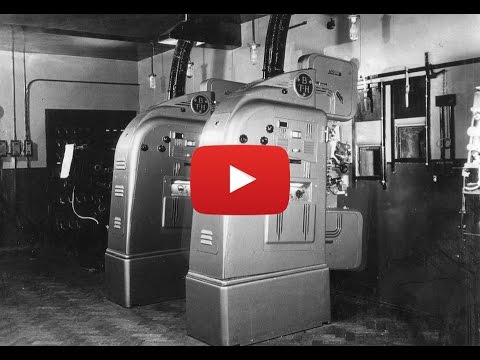 BTH SUPA projectors seen here at the Odeon Chester. These were taken out in 1962 when Kalee 21s were installed.
Click on the above frame to play "THE ODEON PROJECTIONIST AT WORK"
Ernest Hall~ 
Chief Hall was the Odeon's first chief projectionist. He maintained a staff of five/six projectionists. During the war years and after, his wife worked with him in projection and can be seen in this photograph. The projectionist standing with him is Gordon Potter, who took over as chief in 1968 when Ernest Hall retired
Past Chester Odeon projectionists~
Transferring from the Odeon Liverpool to Chester's Odeon in 1977 was Senior Projectionist..Stephen Wynstanley. He was a very popular member of the team & stayed at the Odeon for several years before advancing as an electrical engineer.
Senior Projectionist~ The late Malcolm Leech
Senior Projectionist~ Sidney Brown
Senior Projectionist~ Stephen Wynstanley
Senior Projectionist~ Mark Jenkins
Senior Projectionist~ Simon Kelsey
Projectionist ~ The late Mervyn Howell Projectionist — later chief projectionist at Odeon Wrexham
Projectionist ~ George Buckley
Projectionist ~ Ray Davies
Projectionist ~ Doug Wilcox
Projectionist~ Terry Gregory
Projectionist ~ Mark Lees
Projectionist~ Lee McClounnan
Projectionist~ Malcolm Oldfield
Projectionist ~ Bob Lee
Projectionist ~ Michael Smith
Projectionist~ Terry Underhill
Projectionist~ David Thomas
Projectionist~ Nick Jones
Projectionist~ Karl Morris
chestercinemas.co.uk